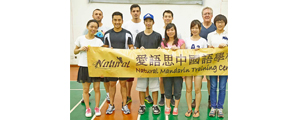 Badminton friendly match .Summer is a passionate season, let's enjoy sweating! In response to this theme, on 26th July, our teachers and students interested in playing badminton went to gymnasium of Crystal City together. There was a friendly match between teachers and students.
Match is not our main form of this activity, however, students who came there were shy to show, so teachers decided to hold the teacher-student friendly match. In the match, no age, no senior, only ability. If your competitor waves the badminton racket, you had to think how to ward off the badminton and then hit it to him or her. In the match, you can also understand different yourself and others. Our purpose of this activity did not want to know who is a winner; we hope our students can communicate each other without shy.
When I take photos with them, I can see happy faces. I know this activity had successfully completed.